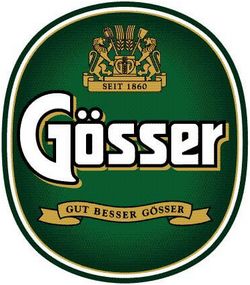 Germany, the Czech Republic, Belgium, the Netherlands, England – all the listed European countries are famous for their unique beer. In each of them they know how to make a foamy drink with unique features and unique taste. However, without Austria, this series, of course, will not be complete.
Austrian beer has long been an element of the culture of this beautiful alpine country. But among all existing local brands, one stands apart. Naturally, I'm talking about beer Gosser.
Under this brand there are more than ten popular varieties of foam drink. There are among them and those that are produced in strict accordance with the traditional recipe. If you find yourself in any corner of Austria, you can taste bright and dark lager, classic ale and amazing marzene.
Main characteristics
Country of origin – Austria.
The manufacturer is Heineken International.
Existing container:
A glass bottle of 0.5 liters;
Can 0.5 liter.
First of all, I want to introduce you to two export versions of Gosser beer that can be bought in our country. After that, there will be a short overview of the most popular Austrian varieties of this brand and a few words about its history.
Gösser

It is a traditional light European beer of bottom fermentation or a camp with a strength of 5.2 degrees and extractiveness of the initial wort 11.8%. This foam low-alcohol beverage passes the pasteurization and filtration
procedures.
The composition of Gosser is one of the standards of quality. For cooking the lager, use crystal clear water from the sources of Upper Styria, selected light barley malt, alpine hops and lower fermentation yeast.
Beer is beautiful golden color. The aroma is simple enough, but at the same time very pleasant. It is dominated by cereals, malt and flower halftones. The taste is refreshing, smooth and saturated with elegant hop bitterness, as well as herbal and grain notes. The aftertaste is long enough.
Gösser

Dark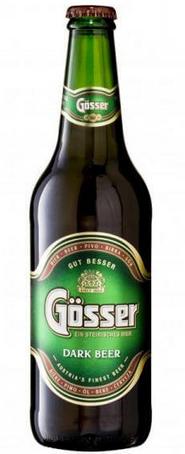 It is a pasteurized and filtered Munich dark camp with an ethyl alcohol content of 4.5%. The initial density of the wort is 11.8%.
Dark Gesser beer with its composition is ready to please even the most demanding connoisseurs and connoisseurs of foam drink. When it is made use fried barley malt, pure drinking water and bitter hops.
Gosser Dark has a luxurious saturated dark brown color with a reddish tint. In the flavor on the leading roles are malt and caramel nuances. The taste of the beer is sweet and incredibly complex. It is dominated by chocolate, caramel, coffee, iris, nut, sugar, bread, yeast, herbal, floral and hop notes.
Existing varieties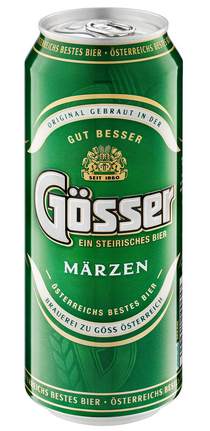 After all, it is thanks to them that this brewery has gained worldwide fame. Nevertheless, every self-respecting lover of a foamy drink should know about these varieties. So, the next time you get to Austria, try the following kinds of Gosser beer.
Märzen, of course, at home is the most popular foam drink. It is a light beer with a pleasant taste and a luxurious foam cap.
Gold is a beer of golden color and a strength of 5.5 degrees. It has a pleasant dry taste.
Spezial is a fairly strong foam drink with an ethyl alcohol content of 5.7%. He has a bright golden color and a piquant bread taste.
Stiftsbrau is the main dark sort of Gosser. It has a wonderful sweetish taste with coffee and caramel shades.
Bock is a dense and strong seasonal beer. In his taste, alcoholic notes can be clearly traced, but this circumstance does not spoil him at all.
Historical reference
Many European Catholic monasteries cooked excellent beer in the Middle Ages. The small monastic monastery located in the town of Hess was no exception. The first brewery in it was built in the 15th century.
Initially, beer was brewed in small batches for the personal use of monks. This state of affairs persisted for centuries.
Until 1860 the monastery was not closed. His land and other property was bought by the brewer Max Kober. He is the creator of the brand Gosser. He rebuilt and expanded the brewery. Thanks to high-quality ingredients and the recipes preserved by the monks, this company boiled a great beer that quickly conquered the whole country.
The modern history of the brand dates back to 2003, when it became part of a large international holding Heineken International.
In Austria, cook many varieties of excellent foam drink. One of the main competitors of Gesser is Edelweiss beer.